Cultural Fantasy versus "Reality" in the 2004 American Presidential Election
The following article by Michael Vannoy Adams is a revised and expanded version of a keynote address, "The Fantasy of Reality and the Reality of Fantasy," delivered at the 32nd annual conference of the National Association for the Advancement of Psychoanalysis on "Fantasy: Imagination and the Transformation of Consciousness," New York, NY, October 9, 2004. Adams has an M.A. in American Civilization from the University of Texas at Austin, where he studied with W.W. Rostow, special assistant to Presidents John F. Kennedy and Lyndon B. Johnson, and a D.Phil. in American Studies from the University of Sussex, where he studied with Marcus Cunliffe, author of American Presidents and the Presidency.
This is a psychological analysis of the 2004 American presidential election. I do not, as Maureen Dowd did, attempt satirically to psychoanalyze President George W. Bush and the war in Iraq as a function of ostensible "Oedipal sensitivities" and then commend the campaign of Senator John Kerry for the invention of a new campaign motto, "It's the couch, stupid!" (Dowd October 7, 2004: A35). Instead, I present a psychological analysis of the election in terms of the relation between fantasy and reality, discuss an example of a "cultural fantasy," and then offer some political advice. I am a liberal Democrat, and I hope that what I have to say psychologically and politically will be of theoretical and practical value to other liberal Democrats in opposition to conservative Republicans. I believe that one of the primary reasons why President Bush defeated Senator Kerry in the election was that Republicans effectively appealed to fantasy while Democrats relied on reality - on the erroneous assumption that reality eventually, inevitably triumphs over fantasy.
I am a Jungian psychoanalyst with a special interest in the relation between fantasy and reality. I have recently published a book, The Fantasy Principle: Psychoanalysis of the Imagination (Adams 2004), in which I argue that reality is constructed in and through fantasy. "The psyche creates reality every day," Jung says. "The only expression I can use for this activity is fantasy" (CW 6: 52, par. 78). The consequences of fantasy can be deadly serious. Contrary to prevalent opinion, Jung says that "fantasies are facts." He notes that "it is a fact that a man has such and such a fantasy, such a tangible fact that when a man has a certain fantasy another man may lose his life." Jung maintains that "fantasy has a proper reality." He says that "fantasy is not nothing" (Jung 1977: 302). If fantasy is, in fact, something, what is it? From a Jungian perspective, fantasy is an internal reality - or "psychic reality." In contrast to Jung, who says that fantasy creates reality, I prefer to say that fantasy constructs reality, because I do not wish to imply that fantasy creates reality ex nihilo, "from nothing." I am neither a solipsist nor an absolute idealist. I do not deny that there is an external reality that has an existence independent of internal reality, but I do insist that fantasy influentially (often unconsciously) constructs that external reality. In this sense, reality is a construct. This is what I call the psychic construction of reality.
Alternatively, I call this process the imaginal construction of reality. Because the adjective "imaginary" has the pejorative connotation of "unreal," I prefer the adjective "imaginal." What distinguishes Jungian psychoanalysis from other versions of psychoanalysis is that it is an imaginal psychology. For me, "fantasy" is synonymous with "imagination." The imagination is a psychic reality, and it is a reality just as real as any other reality. According to Jung, "Every psychic process is an image and an imagining" (CW 11: 544, par. 889). He says that "the psyche consists essentially of images" (CW 8: 325, par. 618). Or, as I say, the psyche is composed of images, and reality is constructed in and through those images. Images not only construct reality but also, in the process, transform consciousness. The images that interest me most are what I call images of transformation.
The political implications of the importance of imagination are radical. "It has often been suggested, "Andrew Samuels says, that our political culture has reached the point where the politics of imagery is the only politics there is." What if, in fact, contemporary politics is all about imagery? What does Samuels recommend? "Concerning a politics of imagery," he says, "I have a suggestion to make: That we try to revise notions of imagery so that imagery is given a primary and not a secondary status" (1993: 61).
President Bush knows very well that political imagery is primary and not secondary. For example, in the 2000 presidential campaign, he confidently declared: "Slowly, but surely, I'm beginning to change the imagery" (Bruni and Seelye July 2, 2000: sec. 1: 11). To change political imagery is to change political reality and to transform political consciousness. It is as if President Bush is a postmodernist who has read Jacques Derrida and Jean Baudrillard, for to "change the imagery" is to deconstruct reality and then reconstruct it in an image that serves the interests of conservative Republicans, or it is to acknowledge the fourth and final phase of what Baudrillard calls "the successive phases of the image" - the phase in which the image "has no relation to any reality whatsoever" (1994: 6). From the postmodernist perspective, there is no reality whatsoever and everything is just an image or there is at the very least no absolute reality but only "realities" relative to images that construct those "realities" or every reality is a "virtual reality." In Jung and the Postmodern: The Interpretation of Realities (2000), Christopher Hauke quotes Baudrillard, who says that in contemporary America the issue is one "of concealing the fact that the real is no longer real, and thus of saving the reality principle" (Baudrillard 1994: 13). What Baudrillard says, however, also conceals the fact that for Jung the real was never real, that reality was always, as Jung says, "so-called reality" (CW 11: 479, par. 766).
From this perspective, the success of the conservative Republicans in the 2004 presidential election was the result of a failure of political imagination by liberal Democrats. One of the primary reasons why President George H. Bush, the first President Bush, lost the 1992 election was a failure of political imagination, or "vision." He failed, as Thomas Singer says in The Vision Thing, to articulate "a clear vision for the country" (Singer 2000: 1). In fact, the notorious phrase "the vision thing" that the first President Bush coined was evidence of just how inarticulate he was. I believe that liberal Democrats now need to articulate "a fantasy thing." What I advocate is that they relinquish the reality principle, embrace the fantasy principle, and exercise some political imagination - that they reimagine America in order to reconstruct political reality. Perhaps before the 2008 presidential election liberal Democrats should adopt a new campaign motto, "It's the imagination, stupid!" - and employ the slogan "Reimagining America."
The most important issue of the 2004 American presidential election was the definition of "reality." In an article shortly before the election, Ron Suskind reported that a senior aide to President Bush had said to him as early as the summer of 2002 that "guys like me were 'in what we call the reality-based community,' which he defined as people who 'believe that solutions emerge from your judicious study of discernible reality.'" The aide had said: "That's not the way the world really works anymore." From the perspective of the aide, reality is no longer absolute - it is now relative (if not utterly irrelevant). Reality is not given - realities are created. The aide had continued: "We're an empire now, and when we act, we create our own reality. And while you're studying that reality - judiciously as you will - we'll act again, creating other new realities, which you can study too, and that's how things will sort out. We're history's actors . . . and you, all of you, will be left to just study what we do" (Suskind October 17, 2004: 51).
In an op-ed piece, liberal newspaper columnist Bob Herbert asked, "Does President Bush even tip his hat to reality as he goes breezing by?" To this rhetorical question, Herbert answered: "He often behaves as if he sees - or is in touch with - things that are inaccessible to those who are grounded in the reality that most of us have come to know." According to Herbert, "There are consequences, often powerful consequences, to turning one's back on reality." When policy decisions like those in the war in Iraq have serious consequences, Herbert said, President Bush should "submit those policy decisions to a good hard reality check." Herbert then quoted what the senior Bush aide had said to Suskind about the creation of realities. "Got that?" Herbert asked. "We may think there are real-world consequences to the policies of the president, real pain and real grief for real people. But to the White House, that kind of thinking is passe. The White House doesn't even recognize that kind of reality" (Herbert October 22, 2004: A23). Subsequently, former Vice President Al Gore, in a full-page newspaper ad paid for by the political action committee MoveOn, quoted what the aide had said and criticized President Bush for believing that "reality itself is a commodity he can control," for making "assertions that differ radically from reality," and for being "out of touch with reality" (Gore October 25, 2004: A7).
In the period before the presidential election, liberal newspaper columnists constantly complained that the Bush administration was deliberately, cynically ignoring reality and replacing it with fantasy. For example, in an op-ed piece entitled "From Dream to Nightmare," Herbert described the war in Iraq as a "pipe dream," which he noted "originally referred to the fantasies induced by smoking a pipe of opium." According to Herbert, "Reality was the first casualty of Iraq." The war was a product of the narcotic fantasies of the Bush administration. "My problem with the warrior fantasies emerging from the comfort zones of Washington and Crawford, Tex.," Herbert said, "is that they are being put to the test in the flaming reality of combat in Iraq, not by the fantasizers but by brave and patriotic men and women who deserve so much more from the country they are willing to defend with their lives." The Bush administration had not learned the lessons of history. "And," Herbert concluded, "the most fundamental of those lessons is that fantasy must always genuflect before reality" (Herbert April 30, 2004: A27).
In another op-ed piece, Herbert criticized both President Bush and Senator Kerry for avoiding reality. Herbert said that "there's a big difference between the rigidly crafted reality at the heart of a political campaign and the reality of the rest of the world." For example, the war in Iraq had already proved to be sheer fantasy. "Dreams of democracy taking root in the garden of Baghdad and then spreading like the flowers of spring throughout the Middle East have given way," Herbert said, "to the awful reality of bombings, kidnappings, and beheadings." Not only Republican and Democratic politicians but also American citizens distorted reality. Herbert said: "Unfortunately, we've become a society addicted to the fantasy of a quick fix. We want our solutions encompassed in a sound bite. We want our leaders to manipulate reality to our liking" (Herbert August 12, 2004: A17).
In an op-ed piece entitled "Let's Get Real," Krugman argued that in response to "the question of how his policy in Iraq would differ from President Bush's," Senator Kerry's "answer should be that unlike Mr. Bush, whose decisions have been dictated at every stage by grandiose visions and wishful thinking, he will get real." Krugman quoted a member of the Center for Strategic and International Studies, who commented that "the administration's senior spokesmen still seem to live in a fantasyland." According to Krugman, "American foreign policy shouldn't be dictated by Mr. Bush's infallibility complex." He said that "in Iraq that means setting realistic goals" - in contrast to "Mr. Bush's fantasies" (Krugman September 24, 2004: A27).
In another op-ed piece entitled "Bush and Reality," Herbert offered an explanation for what he called President Bush's mediocre performance in the first presidential debate. "And that," Herbert said, "was his problematic relationship with reality." According to Herbert, "Mr. Bush is a man who will frequently tell you - and may even believe - that up is down, or square is round, when logic and all the available evidence say otherwise." While President Bush presents "a rosy picture of events in Iraq," Herbert said, Americans "are increasingly seeing the bitter, tragic reality of those events." The negative television ads and persistent, derisive criticism that had given President Bush a lead in public opinion polls over Senator Kerry "were distractions from the real world," Herbert said. "But reality cannot be kept at bay indefinitely." Sooner or later, President Bush would be vulnerable. "The real world is President Bush's Achilles' heel," Herbert said. "He can't keep his distance from it forever" (Herbert October 4, 2004: A25).
In yet another op-ed piece, Krugman said of President Bush that "the full costs of his denial of reality are only now becoming clear." According to Krugman, President Bush and Vice President Dick Cheney "engage in what Orwell called 'reality control'" as a political strategy. From an Orwellian perspective, to control reality is to invent reality. "When leaders live in an invented reality," Krugman said, "they do a bad job of dealing with real reality." He said that "the political ability of the Bush administration to deny reality - to live in an invented world in which everything is the way officials want it to be - has led to an ongoing disaster in Iraq and looming disaster elsewhere" (Krugman October 8, 2004: A27).
Liberal cartoonists also satirized the Bush administration. In one cartoon, Mike Luckovich drew Vice President Cheney seated at a table and pointing at a rather clownish man wearing a T-shirt bearing the single word "REALITY." Above the head of Vice President Cheney was a bubble containing the words "FACT IS, WE'VE NEVER MET BEFORE . . ." (Lukovich October 10, 2004: sec. 4: 4).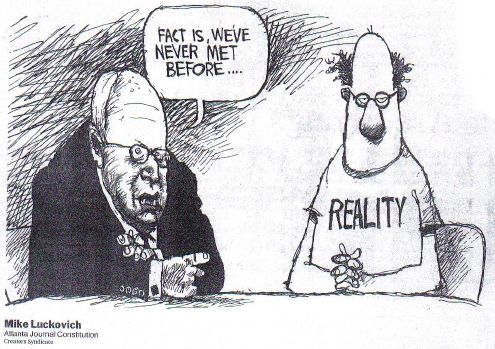 In another op-ed piece after the presidential inauguration, Herbert again stressed the distinction between reality and fantasy. "The disconnect between the over-the-top celebrations in Washington and the hideous reality of Iraq does not in any way surprise me," Herbert said. "It's exactly what we should expect from the president and his supporters, who seem always to exist in a fantasy realm far removed from such ugly realities as war and suffering." Some people travel in the world of reality, while other people travel in a world of fantasy. "People traveling in the real world may see Iraq as a place where bombings, kidnappings and assassinations are an integral part of daily life; where police officers are blown to pieces as they line up for their pay; where innocent men, women, and children are slain by the thousands for no good reason; where cities like Falluja are leveled in order to save them; where America's overwhelming superiority in firepower has not been enough to win the war; and where the upcoming elections seem very much like a joke since many of the candidates have to keep their identities secret and the locations of many polling places remain undisclosed," Herbert said. "People traveling in the real world may see Iraq that way. But in the fantasy-laden Bush realm, Iraq is a place where freedom is on the march. So why not raise a toast to freedom and dance the night away" (Herbert January 21, 2005: A23). While Iraqi citizens and American soldiers were dying in the war, conservative Republicans were drinking and partying at the $40 million presidential inauguration.
After the presidential inauguration, a conservative newspaper columnist, David Brooks, also addressed the issue of reality, although in order to serve Republican interests, he adopted a different terminology. Instead of the term "fantasy," he employed the term "ideals." In an op-ed piece entitled "Ideals and Reality," Brooks acknowledged that there were excesses at the inauguration. "What you saw in Washington that day," he said, "is what you see in America so often - this weird intermingling of high ideals with gross materialism." According to Brooks, "The people who detest America take a look at this odd conjunction and assume the materialistic America is the real America; the ideals are a sham." For "anti-Americans," Brooks said, the profession of idealistic principles is "just a cover for the quest for oil, or the desire for riches, dominion and war," just a hypocritical pretense in the pursuit of materialistic interests. "But, of course, they've got it exactly backward," he said. "It's the ideals that are real." In two years, Brooks predicted, everyone will have forgotten the extremes of the inauguration, but the speech that President Bush delivered, "which is being derided for its supposed detachment from the concrete realities, will still be practical and present in the world, yielding consequences every day." According to Brooks, "Bush's inaugural ideals will also be real in the way they motivate our troops in Iraq." The ideals in the inauguration speech were consistent with the ideals of an American poet and a selective list of American presidents. "While many back home have lost faith," Brooks said, "our troops fight because their efforts are aligned with the core ideals of this country, articulated by Jefferson, Walt Whitman, Lincoln, F.D.R., Truman, J.F.K., Reagan and now Bush" (Brooks January 22, 2005: A15).
Republican ideology, at least as Brooks articulates it, is a version of Platonic idealism. To Brooks, the "concrete realities" (such as the war in Iraq) that he dismisses as irrelevant are insignificant in comparison with the abstract ideals that he maintains are at the very core of America. For Plato, this real world was merely an imperfect rendition of an other, ideal, perfect world. From a Platonic perspective, "It's the ideals that are real," as Brooks says - and what liberal Democrats consider concrete realities are unreal. For Brooks and conservative Republicans, the fact that the concrete realities of the war in Iraq (bombings, kidnappings, and beheadings) are not in conformity with the abstract ideals of the Bush administration is no surprise and no concern, for the Platonic idealism of Republican ideology is a metaphysical position that presupposes imperfection. Logically, however, it begs the question. It is a version of the petitio principii, the fallacy in which what is concluded is not proven but assumed. It serves the Bush administration as a convenient excuse to disregard any concrete realities at variance with the abstract ideals that they so resolutely assert.
Presumably, Brooks contrasts reality with ideals rather than with fantasy because he knows that the term "fantasy" has a pejorative connotation. As a rhetorical ploy, the term "ideals" is an effective political strategy. As a Jungian psychoanalyst, however, I prefer the term "fantasy" in relation to reality. "All the functions that are active in the psyche," Jung says, "converge in fantasy." He notes that fantasy has "a poor reputation among psychologists" - and, I would add, among politicians. Jung says that "it nevertheless remains the creative matrix of everything that has made progress possible for humanity." He very much esteems fantasy, which he says "has its own irreducible value" (CW 7: 290, par. 490). According to Jung, "Developing fantasy means perfecting our humanity" (1977: 40). Although Jung concedes that "there are unprofitable, futile, morbid, and unsatisfying fantasies whose sterile nature is immediately recognized by every person endowed with common sense," he insists that "the faulty performance proves nothing against the normal performance." He concludes: "All the works of man have their origin in creative imagination. What right, then, have we to disparage fantasy?" (CW 16: 45, par. 98). (Rhetorically, however, I acknowledge that it would probably be more politic for liberal Democrats not to employ the term "fantasy" but to employ the term "imagination," which has a more positive connotation - as, for example, in the slogan "Reimagining America.")
In 2000, Andrew Samuels conducted an international survey to ascertain how often clients discuss "political material" in analytic sessions and whether psychoanalysts consider such material to be analytically relevant or not. He noted that sometimes clients had a need to discuss some political issue, "such as the Gulf War" but that they "had 'learned' that, in analysis, you don't do that" (Samuels 1993: 209). Historically, psychoanalysts had regarded political issues as a manifest content, a mere derivative of a latent content - a mere allusion, or indirect reference, to strictly personal issues. Samuels was surprised and pleased to discover that many contemporary psychoanalysts do not reduce political issues to personal issues but consider political issues, as such, a perfectly valid topic for discussion. He reported that "national politics" was the fourth most frequent political issue that clients discussed in analytic sessions.
The morning after the first presidential debate of 2004, a client in psychoanalysis with me mentioned the election. My client was a politically active liberal Democrat who had worked for the presidential campaign of Bill Clinton in 1996. First, he described President Bush. "Bush's hope," he said, "is that enough people like his general approach, like steadiness, think that bad news in the newspapers is just a test of his resoluteness, like staying the course, think that everything else is a sign of weakness, and think that stubbornness is a strength." Then, employing psychoanalytic terminology, he described Senator Kerry. "Kerry's hope," he said, "is that enough voters have enough of a reality principle."
Like the liberal newspaper columnists Herbert and Krugman, my client hoped that the reality principle would triumph over the fantasy principle. The difficulty with this proposition was that President Bush, especially after 9/11, had opportunistically appropriated and effectively exploited a "cultural fantasy." This cultural fantasy was that Americans are what my client called "reluctant heroes."
One version of this cultural fantasy was a movie, a "Western," with the following script. Bush was simply a cowboy who would prefer to live on his ranch with his wife and spend his time in his jeans and boots, clearing his land with a Texas chainsaw - but Osama bin Laden and the Al Qaeda gang, including Saddam Hussein, had taken over the town and terrorized the people. Only reluctantly did Bush undertake the heroic task - agree to be sheriff, pin a tin star on his chest, and, in a showdown, attempt to arrest or shoot and kill all the outlaws.
Just who is an outlaw is, of course, a provocative question. "What are we to understand," Luigi Zoja asks, " when America's official voices tell us that the terrorists hate the U.S. because it is a country acting under the rule of law and who then invoke 'Wild West' and call for Osama bin Laden 'dead or alive'?" (Zoja 2002: 52). Was not this wanted poster attitude patently hypocritical? In 2002, President Bush asked Alberto Gonzalez, whom Congress confirmed as attorney general in 2005, for a legal opinion on the relevance of the Geneva Conventions after 9/11. Gonzalez promptly provided him with an excuse to bend, if not break, international law. He advised President Bush that 9/11 had rendered certain provisions of the Geneva Conventions "obsolete" and "quaint" (Scheer 2005). Subsequently, digital photographs exposed the sadistic, pornographic torture of prisoners of war at Abu Ghraib.
My client mentioned that he had on the wall in his office at work a six-foot poster of Gary Cooper in the movie High Noon. He described the poster as follows:
It's a 1989 poster from the Solidarity labor movement in Poland. The image is of Gary Cooper walking. Above the image, it says "Solidarity" in Polish. Below the image it says, "High Noon" and the date. The date is the occasion of the first free elections in Central and Eastern Europe after World War II. Instead of a gun, Gary Cooper holds a ballot. And above his sheriff's badge is a Solidarity button.
The poster, by graphic designer Tomasz Sarnecki, is the most famous political poster in Poland. This is what Lech Walesa, leader of the Solidarity labor movement, winner of the 1983 Nobel Peace Prize, and president of Poland from 1990 to 1995, had to say about the poster:
I have often been asked in the United States to sign the poster that many Americans consider very significant. Prepared for the first almost-free parliamentary elections in Poland in 1989, the poster shows Gary Cooper as the lonely sheriff in the American Western "High Noon." Under the headline "At High Noon" runs the red Solidarity banner and the date - June 4, 1989 - of the poll. It was a simple but effective gimmick that, at the time, was misunderstood by the Communists. They, in fact, tried to ridicule the freedom movement in Poland as an invention of the "Wild" West, especially the U.S.

But the poster had the opposite impact: Cowboys in Western clothes had become a powerful symbol for Poles. Cowboys fight for justice, fight against evil, and fight for freedom, both physical and spiritual. Solidarity trounced the Communists in that election, paving the way for a democratic government in Poland. It is always so touching when people bring this poster up to me to autograph it. They have cherished it for so many years and it has become the emblem of the battle that we all fought together. (Walesa June 11, 2004)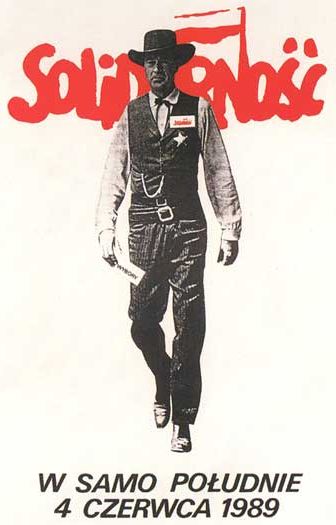 My client said: "When I first saw the poster, I was amazed that the Poles had used that image on election day, that everyone in Poland would get the message, and that somehow democracy in Poland was tied to that image of America." He continued: "A Polish friend of mine said that High Noon is the great American foreign policy movie. It's the image of Americans as reluctant heroes: 'We didn't want to do it, but we had to do the right thing.' In the end, the Americans will come through for you."
The opinion that High Noon is the great American foreign policy movie was first expressed by a movie critic half a century ago, in 1955, during the Cold War." I see 'High Noon' as having an urgent political message," Harry Schein said. "The little community seems to be crippled with fear before the approaching villains; seems to be timid, neutral and half-hearted, like the United Nations before the Soviet Union, China, and North Korea; moral courage is apparent only in the very American sheriff." The sheriff "wants to have peace and quiet," Schein said, but, however reluctant, he is a hero for whom "duty and the sense of justice come first, in spite of the fact that he must suddenly stand completely alone." According to Schein, "'High Noon,' artistically, is the most convincing and, likewise, certainly the most honest explanation of American foreign policy" (Schein 1955: 316). The script remains the same 50 years later. President Bush still considers the United Nations to be timid, neutral, and half-hearted. The names of the villains have changed somewhat - from the Soviet Union, China, and North Korea to the "axis of evil" of Iraq, Iran, and (once again) North Korea. In the war in Iraq, President Bush must suddenly stand (almost) completely alone - without the French, the Germans, and so forth - only with the British and a few other allies).
The first important psychoanalytic book about the movies was published in 1950. High Noon did not appear until two years later. However, when Martha Wolfenstein and Nathan Leites described the "major plot configuration in American films," they could almost have been anticipating the script of High Noon. "Winning is terrifically important and always possible though it may be a tough fight," they said. According to Wolfenstein and Leities, "The conflict is not an internal one; it is not our own impulses which endanger us nor our own scruples that stand in our way." Rather, they said, the conflict is an external one - "a particular situation" that requires a confrontation. "The hero is typically in a strange town where there are apt to be dangerous men and women of ambiguous character and where the forces of law and order are not to be relied on," they said. "If he sizes up the situation correctly, if he does not go off half-cocked but is still able to beat the other fellow to the punch once he is sure who the enemy is, if he relies on no one but himself, if he demands sufficient virtue from the girl, he will emerge triumphant" (Wolfenstein and Leites 1950: 298). This plot is a version of what Jungian psychoanalysts call the "hero myth." For example, Harry Wilmer, who has studied the nightmares of veterans of the Vietnam war, notes that a distinctively American variation on the theme of the hero myth is "the good guy-bad guy westerns with the shoot-out between the sheriff and the lawbreakers" (Wilmer 1986: 59).
My client reported that he had been reading President Clinton's autobiography. "Clinton had High Noon screened 20 times in the White House," he said. "Clinton said that he could see in Gary Cooper's face that he looked scared but that he was going to do the right thing anyway." Although my client happened to exaggerate the number of times that President Clinton had watched High Noon in the White House, he accurately characterized how much the movie had impressed Clinton. President Clinton says in his autobiography that in the early 1950s in his hometown of Hope, Arkansas, he could go to the movies "for a dime: a nickel to get in, nickel for a Coke," and see "a feature film, a cartoon, a serial, and newsreel." He says that among the many movies he saw he "especially liked the westerns." His favorite movie was High Noon: "I probably saw it half a dozen times during its run in Hope, and have seen it more than a dozen times since. It's still my favorite movie, because it's not your typical western. I loved the movie because from start to finish Gary Cooper is scared to death but does the right thing anyway" (Clinton 2004: 20). The image of Gary Cooper had continued to serve President Clinton as a source of inspiration. "Over the long years since I first saw High Noon, when I faced my own showdowns, I often thought of the look in Gary Cooper's eyes as he stares into the face of almost certain defeat, and how he keeps walking through his fears toward his duty," he said. "It works pretty well in real life too" (Clinton 2004: 21).
If President Clinton was Gary Cooper, my client said, President Bush was John Wayne. "It's a different movie," he said. He then summarized the script of High Noon:
Gary Cooper just wants to go off with his wife and be a farmer. The only person he realizes he can trust is his wife. She has the courage and love to stick up for him. High Noon is doing the right thing even though you're alienated from all of the people around you. The end of the movie is not celebratory. Gary Cooper looks at all of the cowardly townspeople in disgust, throws down his sheriff's badge, and rides off with his wife. It's the image of Americans reluctantly fighting World War I but then saying, "Never again," and then reluctantly fighting World War II but then saying, "Never again," and so on.
The war in Iraq was a different movie, my client said, in which the hero was not at all reluctant but was naively or ignorantly eager: "The Bush people genuinely thought that they would be welcomed as heroes in Iraq when they got rid of the tyrant. That's how the John Wayne movie ends. He's the great hero and everyone loves him. The Bush people have no idea what they've gotten themselves into."
Of course, it may be that the Bush people knew exactly what they were getting themselves into and that 9/11 fortuitously provided them with a convenient excuse, or pretext, for the war in Iraq. In this scenario, the ostensible reasons for the war - to eradicate weapons of mass destruction and to establish democracy - were never sincere but were always disingenuous, and the actual reasons for the war were to establish a sphere of influence and to control oil. There is also the notion that another reason for the war in Iraq was an ulterior, Oedipal motive. From this Freudian perspective, the war in Iraq was a resumption and completion of the Gulf war against Iraq. The son (George W. Bush, the second President Bush) succeeded where the father (George H. Bush, the first President Bush) had failed. Although the United States (or, more accurately, the United Nations) had won the Gulf war, it had lost an opportunity for "regime change." In addition, although the first President Bush had won the Gulf war, he had then lost the 1996 election to Bill Clinton. The ordinary Oedipal dynamic is that the son wants to kill his father. George W. Bush, however, is a son who did not want to kill his father but wanted to kill Saddam Hussein, who had tried to kill his father, George H. Bush. The resolution that the second President Bush submitted to Congress to authorize the war specifically included the accusation that in 1993 Iraq had attempted "to assassinate former President Bush" (Bush September 20, 2002: A15). The second President Bush did not kill Saddam Hussein, but he (or, more accurately, the American military) did kill his sons, Uday and Qusay.
I acknowledge that this Freudian account of an ulterior, Oedipal motive for the war in Iraq is probably valid, at least to a certain extent. As cogent as it may be, however, it is only an individual fantasy. As a Jungian psychoanalyst, I believe that the cultural fantasy of the reluctant hero, the Wild West script of a sheriff in a showdown against outlaws, is an even more influential factor. My client said that the war in Iraq is a different movie from High Noon. President Bush, he said, is not Gary Cooper but John Wayne, not the reluctant hero but the eager hero, who is either naive or ignorant. This proposition may be true to a certain extent, but it may also be irrelevant. For the war in Iraq to be rhetorically persuasive, it need not include every plot element in the cultural fantasy of the reluctant hero. A cultural fantasy need only include enough essential plot elements that constitute a minimal condition, a sine qua non - in this case, the necessary and sufficient elements "without which" President Bush would be implausible as a credible example of the cultural fantasy of the reluctant hero. From this perspective, it is unimportant whether President Bush is really a reluctant hero like Gary Cooper. He might really be an eager hero like John Wayne, but if contemporary politics is all about imagery, if imagery is not secondary but primary, then what is important is not reality but cultural fantasy - the image of the reluctant hero, who insists that he did not want to do it (Saddam Hussein made him do it): that rather than contain Saddam Hussein in the tradition of George F. Kennan, President Bush had to depose him, that If Saddam Hussein had not defiantly refused to divulge whether or not he possessed weapons of mass destruction, President Bush would not have had to wage the war in Iraq.
A cultural fantasy is a cultural precedent to which opportunistic politicians can appeal. Cultural fantasies are always already available in what Joseph L. Henderson calls the "cultural unconscious" (Henderson 1990), which, as I have redefined it, comprises stereotypes and stereotypical images - as well as what Samuel L. Kimbles and Thomas Singer call "cultural complexes" (Kimbles 2000; Singer and Kimbles 2005). In the 2004 presidential election, President Bush effectively appealed to the cultural fantasy of the reluctant hero, while Senator Kerry futilely relied on reality. President Bush replaced reality with fantasy, and, in the process, he changed the imagery, changed political reality, transformed political consciousness, and defeated Senator Kerry.
In seven op-ed pieces, the liberal newspaper columnists Herbert and Krugman repeated the words "reality," "real," and "realistic" a total of 33 times. This was not just belaboring a point. It was beating the dead donkey of the Democratic Party. It was missing the point, which is that the fantasy principle is primary and the reality principle secondary. What Herbert asserts - "that fantasy must always genuflect before reality" - is patently untrue. As long as liberal Democrats rely on reality and conservative Republicans appeal to fantasy, conservative Republicans will win presidential elections and liberal Democrats will lose them. It is, paradoxically, unrealistic for liberal Democrats to be such realists. It is as if they have watched too much television and believe that contemporary politics is a "reality show." Conservative Republicans may be out of touch with reality, but liberal Democrats are out of touch with fantasy.
Why do liberal Democrats, as Jung says, disparage fantasy? They do not realize that reality is relative: that one person's reality is another person's fantasy - and vice versa. Liberal Democrats assume uncritically that, for example, the reality of the war in Iraq is given - but how that reality and other realities are constructed in and through fantasy is the real issue. They also assume that fantasy is unethical, at least to the extent that it is manipulative. They believe that conservative Republicans cynically employ fantasy to manipulate reality. This attitude of liberal Democrats is a purist conceit. In a sense, it is simply a prejudice against propaganda. Liberal Democrats need to be more pragmatic - and more imaginative. Rather than attempt to replace conservative Republican fantasies with liberal Democratic realities, they need to replace conservative Republican fantasies with liberal Democratic fantasies, ones that are especially rhetorically persuasive. There are many cultural fantasies in the American cultural unconscious. Liberal Democrats need to identify and compile examples of cultural fantasies, select those most apposite in the context of important current events and political issues, and then employ them for strategic, propagandistic purposes against conservative Republicans. Liberal Democrats do not need to "get real." They need to "get fantastic." They need to reimagine America.
---
References
Adams, M.V. (2004) The Fantasy Principle: Psychoanalysis of the Imagination, Hove and New York: Brunner-Routledge.
Baudrillard, J. (1994) Simulacra and Simulation, trans. S.F. Glaser, Ann Arbor, MI: University of Michigan Press.
Brooks, D. (January 22, 2005) "Ideals and Reality," New York Times: A15.
Bruni, F., and Seelye, K.Q. (July 2, 2000) "Campaign Contrasts Grow Starker," New York Times: sec.1: 11.
Bush, G.W. (September 20, 2002) "In Bush's Words: 'Use All Means' on Iraq," New York Times: A15.
Clinton, B. (2004) My Life, New York: Alfred A. Knopf.
Dowd, M. (October 7, 2004) "Getting Junior's Goat," New York Times: A35.
Gore, A. (October 25, 2004) "Dangerous Illusions: George Bush's War with Reality," New York Times: A7.
Hauke, C. (2000) Jung and the Postmodern: The Interpretation of Realities, London and Philadelphia: Routledge.
Henderson, J.L. (1990) "The Cultural Unconscious," in Shadow and Self: Selected Papers in Analytical Psychology, Wilmette, IL: Chiron Publications, pp. 103-23.
Herbert, B. (April 30, 2004) "From Dream to Nightmare," New York Times: A27.
Herbert, B. (August 12, 2004) "All the Pretty Words," New York Times: A17.
Herbert, B. (October 4, 2004) "Bush and Reality," New York Times: A25.
Herbert, B. (October 22, 2004) "Bush's Blinkers," New York Times: A23.
Herbert, B. (January 21, 2005) "Dancing the War Away," New York Times: A23.
Jung, C.G. Except as below, all references are to the Collected Works (CW) by volume, page number, and paragraph.
Jung, C.G. (1977) C.G. Jung Speaking: Interviews and Encounters, ed. W. McGuire and R.F.C. Hull, Princeton, NJ: Princeton University Press.
Kimbles. S.L. (2000) "The Cultural Complex and the Myth of Invisibility," in T. Singer (ed.), The Vision Thing: Myth, Politics and Psyche in the World, London and New York: Routledge, pp. 157-69.
Krugman, P. (September 24, 2004) "Let's Get Real," New York Times: A27.
Krugman, P. (October 8, 2004) "Ignorance Isn't Strength," New York Times: A27.
Luckovich, M. (October 10, 2004) "Fact Is, We've Never Met" [cartoon from Atlanta Journal Constitution], New York Times: sec. 4: 4.
Samuels, A. (1993) The Political Psyche, London and New York: Routledge.
Scheer, R. (January 4, 2005) "Backing Gonzalez Is Torture," The Nation: http://www.thenation.com/doc.mhtml?I=20050110&s=scheer0104.
Schein, H. (1955) "The Olympian Cowboy," American Scholar, 24,3: 309-20.
Singer, T. (2000) "Introduction: The Vision Thing," in T. Singer (ed.), The Vision Thing: Myth, Politics and Psyche in the World, London and New York: Routledge, pp.1-18.
Singer, T., and Kimbles, S.L. (eds.) (2004) The Cultural Complex: Contemporary Jungian Perspectives on Psyche and Society, Hove and New York: Brunner-Routledge.
Suskind, R. (October 17, 2004) "Without a Doubt," New York Times Magazine: 44-51, 64, 102, 106.
Walesa, L. (June 11, 2004) "Remembering Reagan: In Solidarity: The Polish People, Hungry for Justice, Preferred 'Cowboys' over Communists," WSJ.com Opinion Journal from the Wall Street Journal Editorial Page: http://www.opinionjournal.com/editorial/feature.html?id=110005204.
Wilmer, H. (1986) "The Healing Nightmare: A Study of the War Dreams of Vietnam Combat Veterans," Quadrant, 19,1: 47-61.
Wolfenstein, M., and Leites, N. (1950) Movies: A Psychological Study, Glencoe, IL: Free Press.
Zoja, L. (2002) "September 11: Transatlantic Reflections," in L. Zoja and D. Williams (eds.), Jungian Reflections on September 11: A Global Nightmare, Einsiedeln: Daimon Verlag, pp. 17-56.