The Mythological Unconscious
Michael Vannoy Adams
The Mythological Unconscious
Putnam, CT: Spring Publications, 2010
Buy from amazon.com: Paperback
Read Greg Mogenson's book review of The Mythological Unconscious.
Ancient gods and goddesses, heroes and heroines, and fabulous creatures are alive and well within us. They exist in the mythological unconscious and emerge in the dreams and fantasies of modern men and women. This book brings us into an incredibly rich psychic reality - the mythic reality of the infinitely creative human imagination.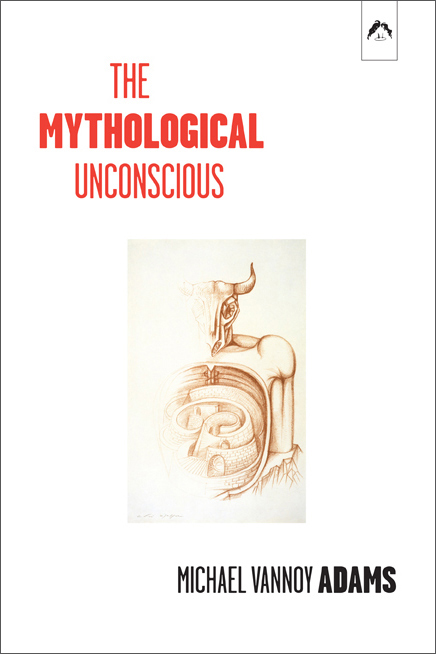 Praise for The Mythological Unconscious
"A storehouse of wonder -- flying white horses, unicorns, and centaurs. All the mythic creatures that haunt our modern psyche are here revealed in the clear lovely light of Michael Vannoy Adams's prose. The Mythological Unconscious is a beautiful, funny, and profound book, an argument that the most inventive story-telling is to be found, not on our bookshelves, but in our unconscious."

Peter Carey
Booker Prize winner for the novels True History of the Kelly Gang and Oscar and Lucinda

"Now that imagination and reality are both confusing and confused in daily life, Michael Vannoy Adams becomes a necessary writer for our troubled times. His wry humor and serious insights fill The Mythological Unconscious, and he offers fascinating possibilities for understanding ourselves and interpreting a world we once thought beyond envisioning."

Deirdre Bair
National Book Award winner and author of biographies of Beckett, Nin, and de Beauvoir

"Michael Vannoy Adams is a man with a magnificent vision of the life of the soul. The Mythological Unconscious is an authoritative study, a gift to the expert as well as the novice, a treasure trove of the imagination for everyone with an interest in psychology and mythology. The elegance of Adams's writing invites us all to be immersed in deep mythological stories. His language is fresh and bold. This is one of those books that will become a classic."

Ginette Paris
Core Faculty Member and Research Coordinator, Mythological Studies Program,
Pacifica Graduate Institute

"The Mythological Unconscious is a scintillating book. Clinically sensitive, intellectually sophisticated, and a born communicator, Adams once more challenges the psychoanalytic world to reevaluate core issues. Mythology is what most people have remained unconscious of about the unconscious. Adams makes us conscious of just how omnipresent ancient myths are in the modern psyche."

Andrew Samuels
Jungian Analyst, Society of Analytical Psychology, London
Professor of Analytical Psychology, University of Essex

"Beautifully written and well reasoned, The Mythological Unconscious will be of great interest to all psychotherapists and persons with an interest in the imagination. Adams revisits and enlarges Jung's concepts of archetypes and the collective unconscious. While noting the universal patterns of image-making in myths, dreams, and fantasies, Adams carefully delineates his important thesis that these images are also culturally shaped. In the clinical arena, he poignantly carves out the use of mythological parallels for understanding the ongoing deep cross-currents that emerge in all of us."

James L. Fosshage
Psychoanalyst, Institute for the Psychoanalytic Study of Subjectivity
Co-Founder and Board Director, National Institute for the Psychotherapies
Clinical Professor of Psychology, New York University Postdoctoral Program in Psychotherapy and Psychoanalysis

"At the heart of culture, ready to awaken into our everyday life at any moment, lie the timeless myths, unconsciously determining our actions. Adams gives us unparalleled guidance through the hidden structure of existence, waking us to the worlds explored by the great psychoanalysts like Freud and Jung, but doing it from the standpoint of a new century. The Mythological Unconscious is contemporary, alive with meaning, poised to shake your imagination."

Robert Bosnak
Jungian Analyst, C.G. Jung Institute of Boston

"Psychic life is real and has consequences, and our world needs to let this fact in and make more room for it. Adams's book affirms the importance of psychic reality and, while deeply Jungian, is not parochial. It is expressive, scholarly, and fun."

Michael Eigen
Psychoanalyst, National Psychological Association for Psychoanalysis
Associate Clinical Professor of Psychology, New York University Postdoctoral Program in Psychotherapy and Psychoanalysis

"Adams's musings on the creatures of the psyche have produced a volume that is both spacious and immediate. Each chapter has a balance of charm and scholarship, humor and gravitas, which simultaneously amuses and enlightens. The lions, bulls, unicorns, and centaurs of myth come vividly alive through the author's mix of play and serious probing."

Beverley Zabriskie
Jungian Analyst, Jungian Psychoanalytic Association
---
The Mythological Unconscious will fascinate and intrigue all individuals who have an interest in the relation between mythology and psychology. This book will also be of indispensable value to psychoanalysts and psychotherapists of all persuasions.
The unconscious is one of the most radically original discoveries ever. What, however, is the unconscious? Some of the greatest psychoanalysts of all time declare emphatically that the unconscious is mythological.
Sigmund Freud speaks of "endopsychic myths" - or, in a word: "Psycho-mythology." C.G. Jung refers to the "mythopoeic imagination" and the "myth-forming structural elements of the psyche." Wilfred R. Bion asserts that the psyche extends into the "domain of myth." James Hillman contends that "the essence of psyche is myth" and that "psychology is ultimately mythology."
Michael Vannoy Adams reaffirms the decisive importance of the mythological unconscious. What distinguishes this book from previous books on mythology and psychology is that Adams provides so many impressively persuasive examples of how myths appear in contemporary dreams and fantasies and does so with such erudition, wit, and eloquent clarity.
Among the many mythological images that Adams discusses are Oedipus, Odysseus, Hercules, the Hydra, Narcissus, Poseidon, Chronos, Medusa, Hermes, Nike, Zeus, Pan, Tezcatlipoca, the lion, the centaur, Pegasus, the bull, the labyrinth, the Minotaur, the griffin, and the unicorn. Finally, he presents a dream that vividly and beautifully exemplifies the "myth of the hero."
To analyze these images psychologically, Adams employs two methods: the explicative-amplificatory technique (which is an interpretative method) and the active imagination technique (which is an experiential method). These methods have practical value both clinically and existentially - a value that is not only curative but also transformative.
Adams describes these techniques in detail and illustrates them with numerous examples so that anyone, even if utterly unfamiliar with these Jungian methods, will have an opportunity to begin to learn how to apply them to their own or others' dreams and fantasies - or to any images that may emerge, under any circumstances, from the unconscious.
Adams argues that the mythological unconscious manifests as a cultural unconscious. He advocates that all psychoanalytic and psychotherapeutic training programs should provide a multicultural education in comparative mythology, as well as courses in the psychology of contemporary cultures.
---
Table of Contents
Psycho-Mythology: Meschugge?
Dreams and Fantasies: Manifestations of the Mythological Unconscious
African-American Dreaming and the "Lion in the Path": Racism and the Cultural Unconscious
"Hapless" the Centaur: An Archetypal Image, Amplification, and Active Imagination
Pegasus and Visionary Experience: From the White Winged Horse to the "Flying Red Horse"
The Bull, the Labyrinth, and the Minotaur: From Archaeology to "Archetypology" (With an Apology to Ariadne)
Griffins, Gold, and Dinosaur Fossils: Mythology and "Fantastic Paleontology"
Dreaming of a Unicorn: A Comparison of Lacanian and Jungian Interpretation
"Destiny" and the Call to Heroism: A Dream of Vocation and Individuation