Red Book Dialogue between Sarah Silverman and Adams
The Red Book is a record of the "active imaginations" of C.G. Jung. Jung copied these active imaginations into six small black leather books and then transferred them to a large red leather book - The Red Book.
In The Red Book, Jung transcribed the active imaginations in calligraphic gothic script and embellished them with elaborate color illustrations in the style of medieval manuscript illuminations.
In 2009, The Red Book was exhibited publicly for the first time at the Rubin Museum of Art in New York and simultaneously published in a facsimile edition with an English translation.
In honor of the occasion, the Rubin Museum sponsored a series of "Red Book Dialogues" between Jungian analysts and prominent artists and intellectuals.
Michael Vannoy Adams interviewed the comedian and actor Sarah Silverman about the image on page 135 of The Red Book. In the image, the top of an enormous tree explodes in a radiant display of psychic energy while the roots extend below ground, into the unconscious, in contact with five archetypal beasts.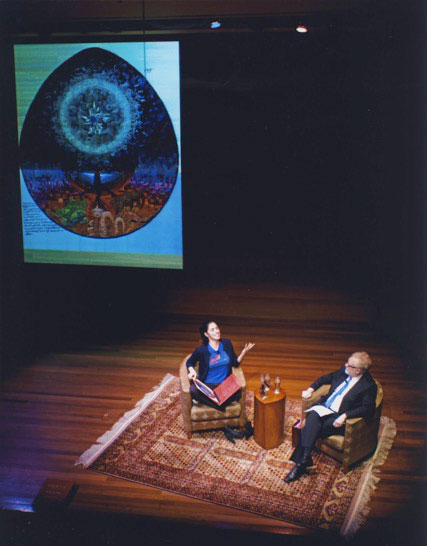 Photograph by Michael Palma
For more photographs of Sarah Silverman and Michael Vannoy Adams, as well as photographs of other "Red Book Dialogues" at the Rubin Museum, visit the website of Michael Palma at www.michaelpalma.com